2nd Grade Phonics Worksheets

Our 2nd grade phonics worksheets will help you continue to build strong fundamental skills in your students. Use the simple ideas on these worksheets to create more spelling worksheets of your own.
Finish the Word
Students supply the missing vowel and then practice writing the completed word. Sentence completion and picture clues are included.
Here's a peek at part of the sheet: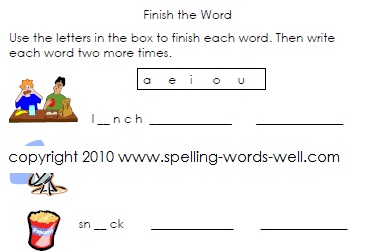 Match Up
Students choose the correct word ending, then practice writing the complete word. Picture clues are included. Here's a quick peek: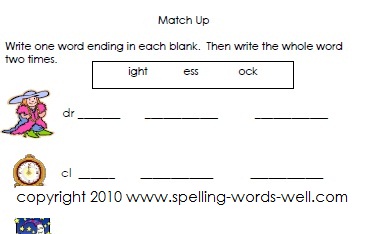 More Phonics Worksheets
Be sure to check out our largest collection of spelling worksheets for grades 1 and 2, as well as these links:
A Zoo-y Day! - A delightful way for students to practice reading and spelling as the write their very own goofy story about a trip to the zoo. Every story will be different!
Fill-In the Family - Kids find words in the same word family, then add another word from the same family to complete sentences.
See all of our free phonics worksheets here.
Spelling worksheets for all ages - Some can be used with any spelling words, many are suitable for first and second graders. Try several with your students!
Don't miss
our eBook
of
FUN
Spelling Worksheets for Grades 1 and 2!
You'll find
50 all-new worksheets
that make spelling practice
FUN
for your early learner.
Why not take a break from worksheets with some of our
fun Spelling Word Games?
Newsletter Sign-Up
Please sign up to receive our

free
newsletter.

You'll receive a bunch of Spelling Bee helps and other freebies when you sign up. The newsletter includes teaching ideas and free resources for teachers and parents. Learn more!
We promise not to share your information with anyone!
---
Go to more 2nd grade phonics worksheets
and spelling practice pages
Go to main page for 2nd grade spelling words and activities
Go to Spelling Words Well home page