Phonics for Kids

Fun Activities to Practice Silent E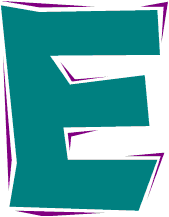 When teaching phonics for kids to learn silent E words, there are many fun, free simple activities you can use. Here are just two.

These ideas pull kids away from the computer, and away from worksheets into hands-on real-life stuff!


To E or Not to E?
Our printable page appears here. You can also read the full text below.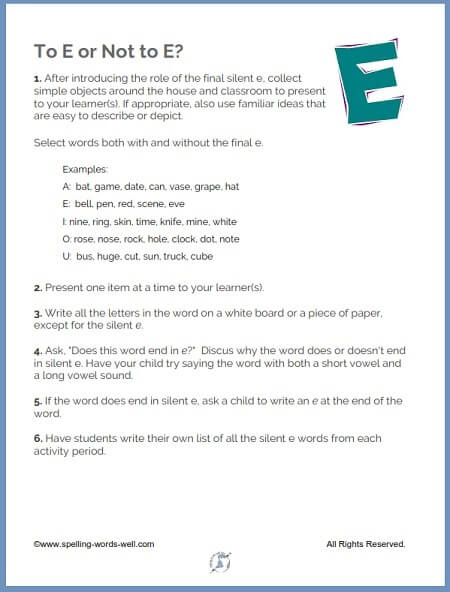 1. After introducing the role of the final silent e, collect simple objects around the house and classroom to present to your learner(s). If appropriate, also use familiar ideas that are easy to describe or depict.
Select words both with and without the final e.

Examples:

A:  bat, game, date, can, vase, grape, hat

E:  bell, pen, red, scene, eve

I: nine, ring, skin, time, knife, mine, white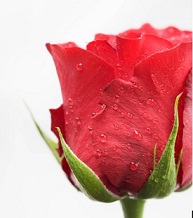 O: rose, nose, rock, hole, clock, dot, note

U:  bus, huge, cut, sun, truck, cube

2. Present one item at a time to your learner(s).

3. Write all the letters in the word on a white board or a piece of paper, except for the silent e.

4. Ask, "Does this word end in e?"  Discus why the word does or doesn't end in silent e. Have your child try saying the word with both a short vowel and a long vowel sound.

5. If the word does end in silent e, ask a child to write an e at the end of the word.

6. Have students write their own list of all the silent e words from each activity period.

Journal-E-ng
Our printable page appears here. You can also read the full text below.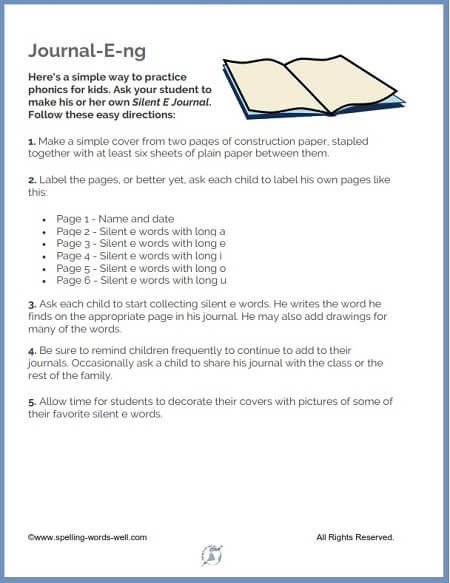 Here's another simple way to practice phonics for kids. Ask your learner to make his own Silent E  journal. 
1. Make a simple cover from two pages of construction paper, stapled together with at least six sheets of plain paper between them.

2. Label the pages, or better yet, ask each child to label his own pages like this:
Page 1 - Name and date
Page 2 - Silent e words with long a
Page 3 - Silent e words with long e
Page 4 - Silent e words with long i
Page 5 - Silent e words with long o
Page 6 - Silent e words with long u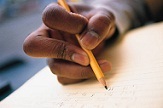 3. Ask each child to start collecting silent e words. He writes the word he finds on the appropriate page in his journal. He may also add drawings for many of the words. 
4. Be sure to remind children frequently to continue to add to their journals. Occasionally ask a child to share his journal with the class or the rest of the family.
5. Allow time for students to decorate their covers with pictures of some of their favorite silent e words.
More Fun, Free Phonics for Kids Activities
ABC Phonics Poem - A fun and funny way to learn about initial sounds!

Alphabet Phonics Booklet - Students customize their own pages in this A to Z phonics activity.

Phonics Flash Cards - A free printable set for the entire alphabet

Fun Preschool Phonics Games - 3 simple adaptations of familiar formats with a phonics twist.
---