Phonics Games for Kids

Slip It In!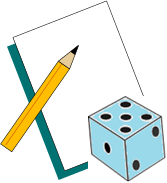 Phonics games for kids make learning to read, write and spell extra-fun! This game is especially easy to learn and easy to play. What could be better? Well...it's also very flexible, You can change the words or skill and use the same format again and again!

Slip It In - Game Instructions
We call this game "Slip It In" because students simply slip a vowel into a blank to try to spell a word. Kids will need to sound out the possibilities, as well as to read and write three-letter words. Here's the link you'll need and a peek at the printable page and our word cards. Instructions are also shown below. 
Printable Instructions & Word Cards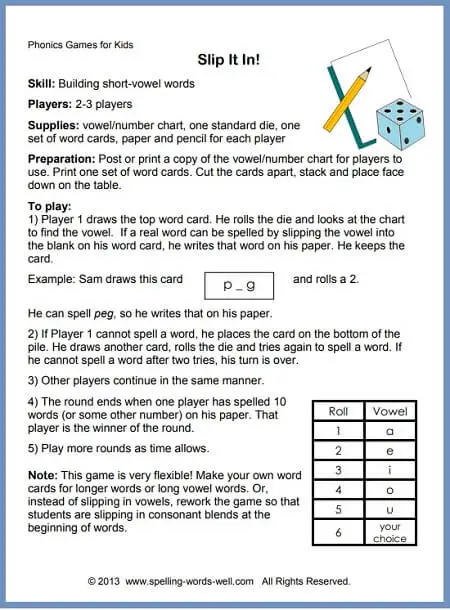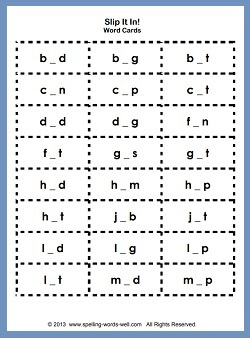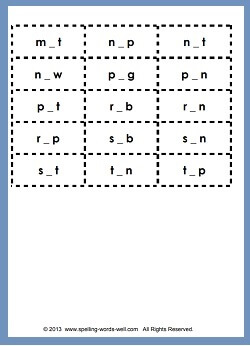 Skill: Building short-vowel words

Players: 2-3 players

Supplies: vowel/number chart, one standard die, set of word cards, paper and pencil for each player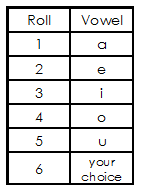 Preparation: Post or print a copy of the vowel/number chart for players to use.  Print a set of word cards. Cut the cards apart, stack and place face down on the table.
To Play:
1) Player 1 draws the top word card. He rolls the die and looks at the chart to find the vowel. If a real word can be spelled by slipping the vowel in to the blank on his word card, he writes that word on his paper. He keeps the card.
Example: Sam draws this card  
and rolls a 2.  He can spell peg, so he writes that word on his paper.
2) If Player 1 cannot spell a word, he places the card on the bottom of the pile. He draws another card, rolls the die, and tries again to spell a word. If he cannot spell a word after two tries, his turn is over. 
3) Other players continue in the same manner.
4) The round ends when one player has spelled 10 words (or some other number) on his paper. That player is the winner of the round.
Note: This game is very flexible! Make your own word cards for longer words or long vowel words. Or, instead of slipping in vowels, rework the game so that players are slipping in consonant blends at the beginning of the words.
More Phonics Games for Kids: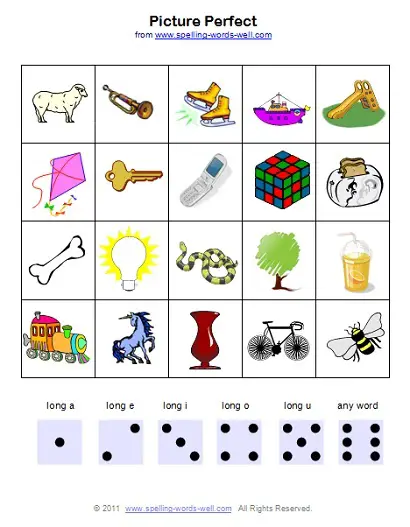 Picture This Phonic Game - We think your early learners will enjoy this activity featuring short vowel words.  Which player can cover the most pictures?

Picture Perfect Game - More engaging pictures on this game board, featuring long vowel words. Fun for everyone!
Letter Lane - A phomenic awareness board game that features beginning consonant sounds for the letters b,d,f and m. No reading is necessary.
More Fun, Free Phonics Activities
ABC Phonics Poem - A fun and funny way to learn about initial sounds!

Alphabet Phonics Booklet - Students customize their own pages in this A to Z phonics activity.

Phonics Flash Cards - A free printable set for the entire alphabet

Fun Preschool Phonics Games - 3 simple adaptations of familiar formats with a phonics twist.
---