4th Grade Spelling Bee Words
Try our list of 4th grade spelling bee words for your next classroom competition. This handy list of 100 words is the foundation for a great spelling game. Just print the words and start the bee!
More than half of the words come from our list of 300 fourth grade spelling words. The remaining words are more challenging. We've arranged the words from easiest to most difficult.
You may want to adjust this list for your specific group of students. Feel free to use additional easier words, or insert some tougher ones.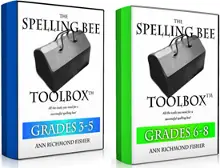 Need more words with sentences, rules, award certificates, and lots of organizational tips? Please consider purchasing our exclusive Spelling Bee Toolbox, for grades 3-5 and grades 6-8. Each one contains 600 grade-appropriate bee words, used in sentences, and all the resources you need for a successful spelling bee! Learn more.
NEW!
Spelling Mugs! Reward your spelling bee winners or your hard-working spellers

anytime

with our own Spelling Words Well mugs!



Please sign up to receive our

free
newsletter.

You'll receive a bunch of Spelling Bee helps and other freebies when you sign up. The newsletter includes teaching ideas and free resources for teachers and parents. Learn more!
We promise not to share your information with anyone!
More Spelling Bee Words
Throughout the year, you may find my
Spelling Word Games
and
Spelling Worksheets
to be helpful resources. I hope you'll visit often for more free spelling resources. If you like what you see on the site, please spread the word! If you'd like to see something that's not here, please
contact me
and I'll try to help!
---