Spelling Brain Teasers for Kids :
Mystery Words
These brain teasers for kids require students to read each clue very carefully and understand its meaning. Kids also need to follow directions and do a bit of critical thinking. They'll need some spelling skills, too.
What could be a better way to practice all these important language skills than using a brain teaser or two?
Here are two fun Mystery Word puzzlers. Try to solve them here, or use the printable version of both puzzlers.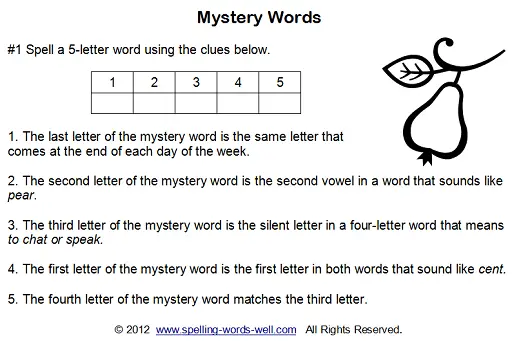 SILLY
Here's a second puzzle that uses the same format. How long will it take you or your students to correctly solve this one?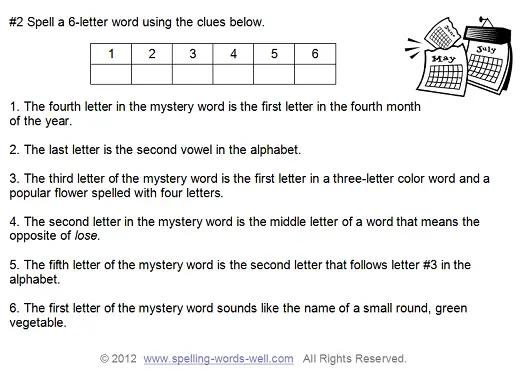 More Brain Teasers for Kids
Here's another page of brain teaser worksheets for kids:

Picture Puzzler and Letter Logic
We think you'll also like these light-hearted riddles and brain teasers:

Want Something More Challenging?
If you're looking for more challenging brain teasers, check out our
Level 2
pages. Part of the key in successfully using brain teasers with any child is to choose puzzles that are at a
suitable level of difficulty
.
When students are given teasers in the classroom that are too easy, they quickly solve them and then become bored. On the other hand, when students are presented with brain teasers that are much too difficult, they become frustrated and give up.
With that in mind, always
carefully read and solve any brain teasers first before assigning them to your students
. If you think a particular puzzler is just a wee bit too hard, consider assigning students to work in pairs. If you're a parent, sit with your child as he begins to solve a puzzle. If he gets "stuck," allow him to think about things on his first, then offer small hints along the way.
---