Crossword Express
A Long and Short Puzzle!
Climb aboard the Crossword Express for this challenging vocabulary puzzler! You'll need to supply long synonyms for some clues and short synonyms for others.
As you begin to fill in the grid, the letters you provide will give you clues to more and more words. 
The Long and Short Crossword
Here's a look at the page. Please get the printable version for best results. For your convenience, the clues are also provided below. Answers can be seen on the printable document.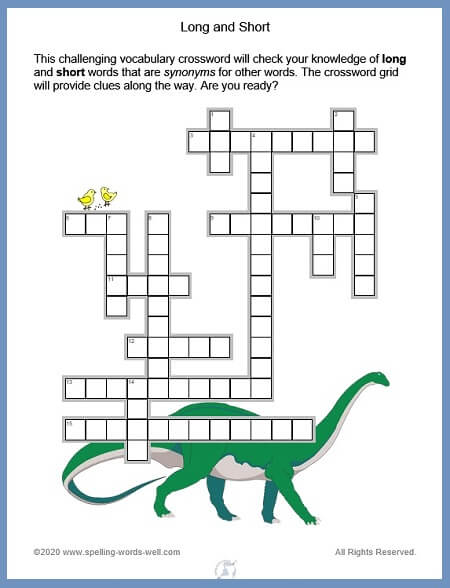 CLUES
Across
3.      Long word for TINY

6.      Short word for PIECE
9.      Long word for QUIET
11.    Short word for ORDERLY
12.    Short word for VIVACIOUS
13.    Long word for NOISY
15.    Long word for MESSY
Down
1.      Short word for GIGANTIC
2.      Short word for GLOOMY
4.      Long word for RAPID
5.      Short word for WATCHFUL
7.      Short word for COGITATE
8.      Long word for NEWS
10.    Short word for SOAR
14.    Short word for SLUGGISH
Also on the Crossword Express...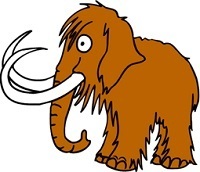 You may also be interested in another Synonym Crossword. For each clue, you must select a synonym that fits into the diagram. Can you solve this mammoth-sized challenge?
Don't get off the Crossword Express until you've tried some of these challenging puzzles: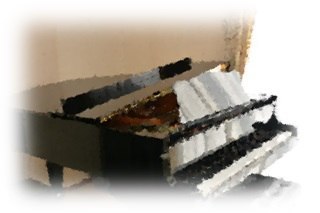 Muddled Music Crossword - Sharpen your focus to solve this one! Replace one or two letters in each clue to spell a musical term. 
Learning Locations - You have probably heard of these 22 American colleges and universities. But do you know where they're located? Find out when you try this challenging crossword puzzle!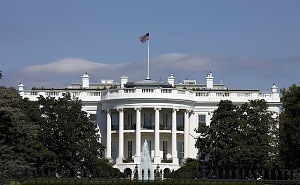 Presidential Middle Names - Check your knowledge of some interesting trivia about U.S. Presidents! Can you supply the name of the president who had/has each of these middle names? 
Anagram Crossword: Can you choose the correct anagram for each five-letter clue to correctly complete this puzzling puzzler???
Please check out my assortment of easier crosswords, too!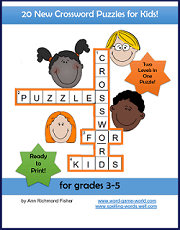 Crossword Puzzles for Kids eBook: 20 new puzzles for grades 3-5.  Most clues written for differentiation. Learn more!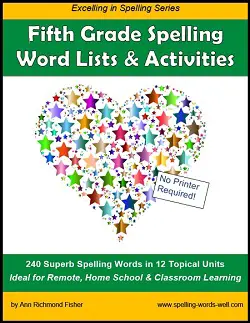 Fifth Grade Spelling Words & Activities: 240 Words in 12 Topical Units, No Printer Needed. Ideal for Home, Classroom or Remote Learning!
Crosswords from Word-Game-World
My other website is bursting with crosswords, word searches, anagrams, and lots of other puzzles. Here's a few of the more challenging crosswords:

Where In the World? Test your knowledge of famous locations around the world. Great for Geography buffs, family night or Social Studies class!
Missing Links - Supply the word that connects both words in the clue. Example: RAW - OUT  Answer: HIDE Fun to solve with your family or classmates!

Acronym Crossword Puzzle This interesting acronym crossword uses terms from government, medicine, technology, sports and more. Simply supply the missing word in each acronym.
---