Easy Brain Teasers With Answers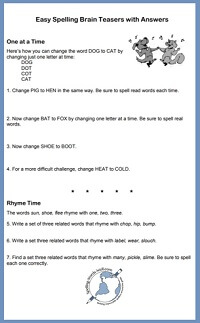 Here are some fun, quick-thinking brain teasers with answers that include lots of spelling and vocabulary practice.
These twelve questions are presented and explained in four different sections.  You can find more slightly more difficult versions of similar brain teasers here.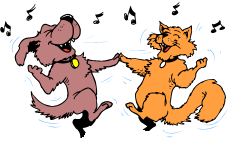 One at a Time
Here's how you can change the word DOG to CAT by changing just one letter at time:  DOG, DOT, COT, CAT
1. Change PIG to HEN in the same way. Be sure to spell real words each time. (Please note that there may be many different ways to solve these puzzlers.)
PIG, PIN, PEN, HEN
2. Now change BAT to FOX by changing one letter at a time. Be sure to spell real words.   
BAT, FAT, FAX, FOX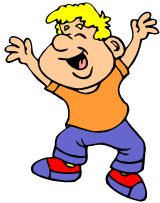 3. Now change SHOE to BOOT.
SHOE, SHOT, SOOT, BOOT
 4. For a more difficult challenge, change HEAT to COLD.
HEAT, MEAT, MOAT,COAT, COLT, COLD

Rhyme Time
The words sun, shoe, flee rhyme with three words often used together: one, two, three.
 5. Write a set of three related words that rhyme with chop, hip, bump.
hop, skip, jump
 6. Write a set of three related words that rhyme with label, wear, slouch.
table, chair, couch
7. Find a set of three related words that rhyme with many, pickle, slime. Be sure to spell each one correctly.
penny, nickel, dime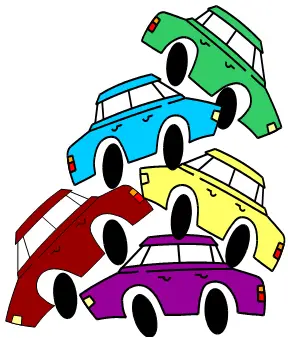 Tricky Transportation
If you change the w in want to a k and then rearrange the letters kant, you can spell tank, one form of transportation.  Now change one letter in each of these words and rearrange the letters to spell more kinds of transportation.
8. tea
jet
9. push
ship
10. poems
moped
Eating on the Run
Here are just two  more brain teasers with answers. Spell a food using only letters in the name of each city. You do not need to use all the letters, and you may change the order of the letters.
 11. CAROLEEN (North Carolina)
cereal
12.  KIMBALL (Nebraska)
milk
More Brain Teasers With Answers


NEW! - Fun Brain Teasers for Students  These fun brain teasers will check your students' spelling and vocabulary skills. They'll also tickle their funny bones! 

More Easy Brain Teaser Questions - Are they all really easy for you? More word play fun with lots of spelling topics.
Mystery Words - Printable worksheets, especially for kids. They'll need to carefully read the directions, use critical thinking skills and spelling skills to find the mystery words.  Fun and challenging!
Picture Puzzlers - Two printable brain teaser worksheets where knowing how to spell simple words is a must!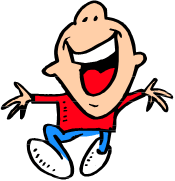 Multiple-meaning jokes and riddles - Light-hearted word fun! What a great way to practice language skills!
Hilarious Homonyms - More word play riddles featuring words that sound the same but have different spellings and meanings. Great practice for students!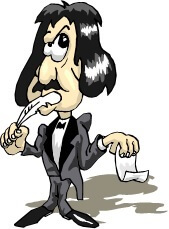 Rhymonyms TM -  Challenging new word play for upper grade students and adults. Think of a pair of rhyming words for each set of synonyms. Printable, free and fun!

First Two Letters - The first two letters to every answer in this list of brain teasers are either supplied or partially revealed. You only need to finish spelling the words. This should be easy -- right?
We also have lots of spelling word games and spelling worksheets for all ages. Our aim is to provide a wealth of enjoyable spelling resources to help everyone spell words well!
---