Third Grade Worksheets
for Spelling Practice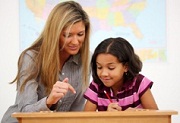 These third grade worksheets are just right for your developing spellers. The pages here focus on important words your kids need to spell correctly everyday.  View the screenshots, then print the full-sized worksheets.

Third Grade Worksheets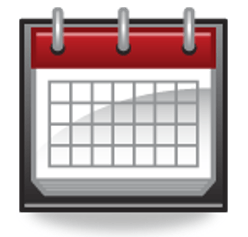 Calendar Clues

The first worksheet includes all-important calendar words. Clues contain scrambled words. The students have all the letters, but need to put them in the right order to complete the crossword correctly.
  Complete Printable Crossword Puzzle: Calendar Clues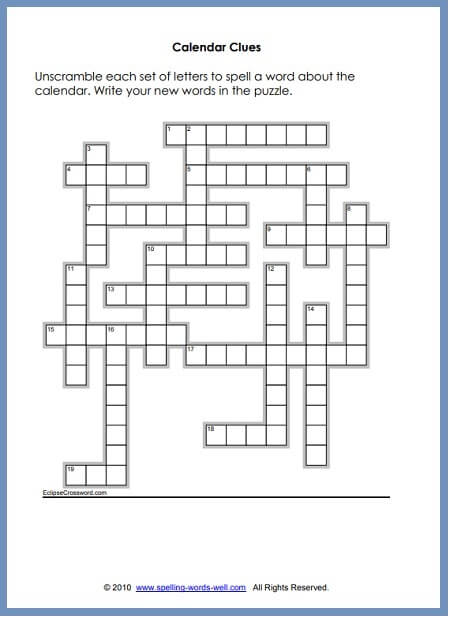 Contraction Action!
Our contraction worksheets give your third graders lots of practice in spelling, writing and using some of the most common contractions. See the screen shot of one of our pages below.  There are two worksheets.

Printable Worksheet: Contraction Action 1
can't, didn't, doesn't, isn't, won't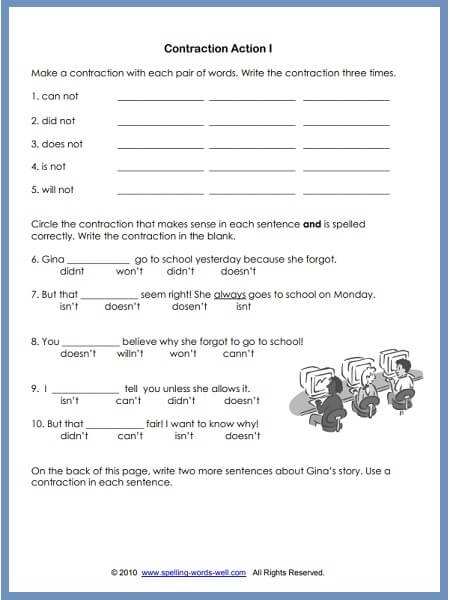 Printable Worksheet: Contraction Action II
I've, I'm, we'll, he'd, she'll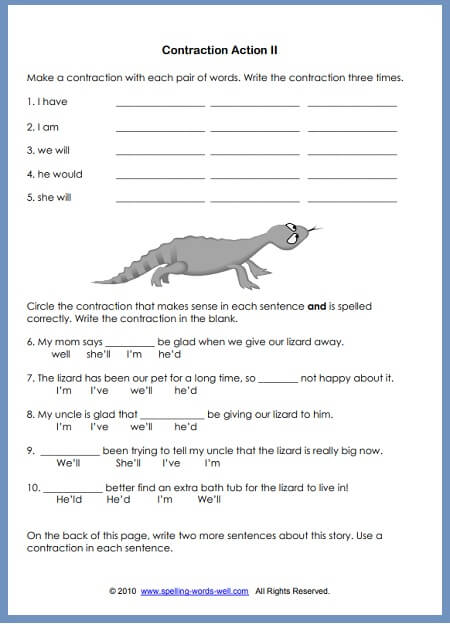 Be sure to try BOTH contraction worksheets for maximum spelling practice!

More Third Grade Worksheets

Your third graders will like using our fun and flexible "Swap Sheets™," in which students create spelling exercises for each other.

Double Letter Animal Word Search:  Supply the missing pair of letters, then find each of the 40 animal names in the word search puzzle. Fun spelling practice for any age!
Printable spelling reproducibles - Mini word search puzzles: Students must spot the correct spelling of troublesome words.
Try my new collection of Kids' Crossword Puzzles! Worksheets don't get much better than this! As you know, students must read the crossword clues, think of an answer, then spell the answer correctly to successfully complete a crossword. Great language practice!

Third graders are ready to work independently, and will probably enjoy our Mystery in the Attic spelling worksheet.
Free Spelling Worksheets - Can You Spell Well?: If students correctly identify the misspelled words, they'll shade the page to reveal in interesting word.
Fill-in Crossword Puzzles: Practice tricky word endings in two fun puzzles. I've used important words from the fourth grade spelling word list.

For more fun spelling practice, try our AnyWord Spelling Practice Series. In these three eBooks, you'll  find word play worksheets, writing prompts and partner games and activities that work with almost any list of spelling words!

Silent Letter Search: Word search fun! Students must add the correct silent letters and then locate the completed words in the puzzle.
Picture Puzzlers - 2 Printable brain teaser worksheets where knowing how to spell simple words is a must! A unique way to provide fun spelling practice!

Magic Word Squares - 7 printable word brain teasers. Kids will complete squares in which the same words are spelled in both directions.

For even more ideas for spelling practice, try these:

Sign Up Here for My Free Newsletter

---