Kindergarten Vocabulary List
Use our new kindergarten vocabulary list of 100 words to build your child's language skills. Talk about these words together. Does your child know the meaning of each one? Can you use each word in context if s/he does not?
Add these words to your everyday conversations, and soon your child will be consistently using these words, too!
Kindergarten Vocabulary List
Here's a peek at the printable page. The full version also appears below. 

Remember, these are words that students in kindergarten should be comfortable in using orally. They may not be able to read and write them at first. But you can help them work on those skills, too!  Does your child already know some of these words? That's great! Have fun using the words frequently in family discussions.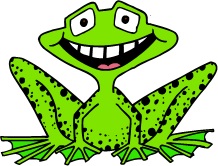 Animals:  cat, dog, horse, cow, bird, fish, butterfly, spider, frog,   lion, tiger, bear, elephant, kangaroo
Seasons:  spring, summer, autumn, winter     
Weather:  chilly, warm, snowy, stormy, sunny, cloudy, windy, weather
Foods:  milk, juice, water, bread, cereal, pizza, sandwich, apples, bananas, carrots, eggs, veggies (or vegetables)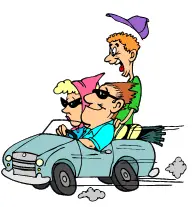 Family: mom, dad, brother, sister, grandpa, grandma, aunt,  uncle, cousin   
Feelings: happy, gloomy, sleepy, patient, hopeful, quiet, worried, grouchy, delighted, proud  
Other adjectives: delicious, bumpy, fluffy, polite, helpful, gentle, careful, healthy, sparkly, frozen  
Shapes: round, circle, square, rectangle, triangle, oval      
Calendar: day, week, month, year, yesterday, tomorrow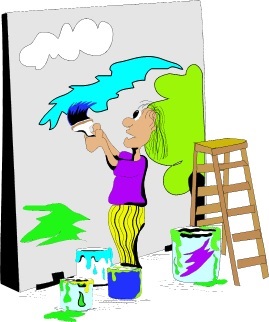 Community helpers: artist, teacher, farmer, doctor, firefighter, musician
Outdoors:  playground, park, highway, countryside, beach, pond, ocean, mountain
Clothing: shirt, pants, skirt, shoes, socks, jacket, mittens

Do you want MORE words?
Of course, this is not a complete kindergarten vocabulary list! Be sure your student is also familiar with a wide variety of colors and color words. It's not too early to teach your child to spell and write number words, either!
If your child is at the very beginning of language learning, be sure to teach these preprimer and primer sight words. 
Extension Activities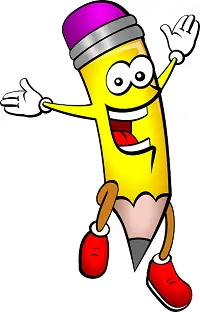 Copy one word on a piece of lined paper. Then, ask your child to do one or more of these things:
Write the word again three times
Draw a picture for the word
Cut the letters that spell the word from a newspaper or magazine, and glue the letters onto the page
Type the word into in a message on your phone
Think of a word that rhymes with your word. Write a poem using both words
More Kindergarten Resources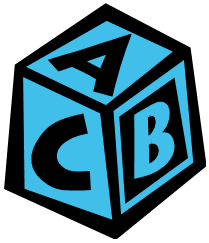 Try some of these preschool and Kindergarten learning games with your favorite youngster(s)! When learning is fun, learning is easier. You'll find letter matching games and ABC games, as well as more challenging activities for this age group.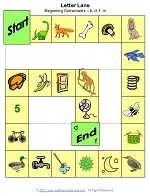 Letter Lane  A phomenic awareness board game that features beginning consonant sounds for the letters b, d, f and m. No reading is necessary. 
A Pickle or a Tickle  Fun game for young children! Your students will need to listen carefully to initial consonant sounds as they play these entertaining games.
Kindergarten Worksheets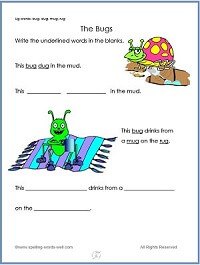 The Bugs   If your kids like the BUG on this page, they're sure to LOVE the BUGS on this word family worksheet! One bug dug in the mud. Another bug drinks from a mug on the rug. Learning IS fun!
The Big Pigs   This whimsical page features a muddy pig with a wig, and pig that does a jig.  What a fun way to learn the IG family of words! All types of activities, including games and worksheets, will help to reinforce the words on this kindergarten vocabulary list, and your child's vocabulary in general!
All Vocabulary Lists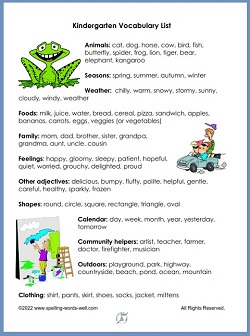 Kindergarten Vocabulary List - 100 engaging, empowering vocabulary words that every kindergartner should be learning. Use our convenient printable page. 
First Grade Vocabulary Words - 100 great vocab words on a variety of topics for 1st grade students to learn to use in conversation, along with suggested activities.
Second Grade Vocabulary List : 100 words for 2nd grade students to learn and enjoy!  Challenge your second graders with more words to use in their speaking vocabularies.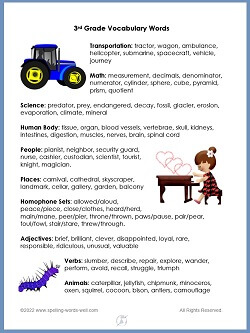 3rd Grade Vocabulary Word List - Another 100 words to boost your child's spoken and written language skills. Print the complete list from the web page for best results!
4th Grade Vocabulary List - Ten sets of ten words each across a variety of subjects and topics to challenge and enrich fourth graders.
5th Grade Vocabulary Words - Boost your fifth graders' spoken and written vocabularies with this BIG list of 200 words, arranged in alphabetical order! I've also selected 100 of these words to put into 10 engaging topics. Try the extension activities for best results!
---
These are lists of easier sight words and spelling words that you may wish to explore with your student. 

Ann Richmond Fisher is a longtime published educational writer, a former classroom teacher and a former homeschool teacher. Ann's spelling bee resources, graded spelling word lists, spelling games, worksheets, and other language arts resources have become respected around the globe since she launched Spelling-Words-Well in 2010.
Ann is also the creator of www.word-game-world.com.
---
Kindergarten Vocabulary List