5th Grade  Vocabulary List
Use this 5th grade vocabulary list to enrich your students' learning, as well as their written and spoken language skills. Words appear in ten categories that students will use and refer back to frequently throughout their fifth grade year.
5th Grade Vocabulary List
Here's a peek at the printable page. The full version also appears below. 

Remember, these are words that students in fifth grade should be comfortable using orally.  As students become more comfortable in using them orally, expect them to use the words in their written work as well. Use the words frequently in home or classroom discussions. Write the words on the fridge or on the board to encourage their usage. 


Snorkeling
Sports: racquetball, croquet, snowboarding, slalom, curling, triathlon, archery, rugby, volleyball, snorkeling
Places: canal, canyon, isthmus, plateau, tundra, terraces, savanna, quarry, oasis, megalopolis

Social Studies: constitution, amendment, republic, province, naturalize, commerce, monopoly, longitude, latitude, atomic energy

Science: barometer, satellite, marsupial, plankton, wetland, deforestation, pulley, instinct, stimulus, response

Math: divisibility, congruent, axis, coordinate, probability, simplifying, rhombus, trapezoid, vertex, metric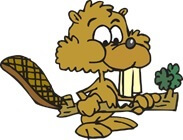 Chomp!
Adjectives: heroic, legible, hilarious, equivalent, significant, vertical, horizontal, hostile, scarce, edible                             
Verbs: chomp, accomplish, investigate, hesitate, huddle, tremble, nudge, identify, cherish, affirm
Adverbs: curiously, merrily, anxiously, punctually, awkwardly, diligently, fervently, quizzically, jubilantly, victoriously

Papaya
People: archaeologist, cartographer, descendant, software engineer, diplomat, paralegal, geologist, electrician, historian, pioneer
Fruits: kiwi, mangoes, apricot, passionfruit, nectarine, avocados, coconut, kumquat, pomegranate, papaya

Extension Activities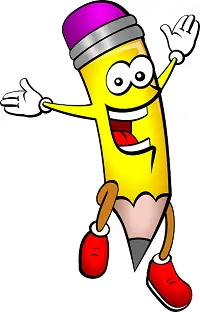 Choose from these extension activities to give your child/students extra practice using words from the 5th grade vocabulary list. Add more activities of your own. 
1) Find one pair of adjectives on the list with opposite meanings. Can you find another pair of words from a different category with similar meanings? How are the word pairs alike? How are they different?
2) Research the jobs of a diplomat, a cartographer and a geologist to find out what each one does, if you don't know already. Write a few sentences about which career you would choose of these three, and why. 
3) Write a sentence or two about some of these topics:
Do you know if you are the descendant of a famous person? If so, whom? Why is this interesting to you?
Which is your favorite fruit on the list, and why? 
Suppose you had 9 cards each numbered from 1 to 9. If you randomly select one card with your eyes closed, is there a greater probability of selecting an odd-numbered card or an even-numbered card? Why?
What amendment would you like to add to the U.S. Constitution? Why?
Write a few sentences about your first time trying the slalom. Your sentences can be fiction or non-fiction.
Write about a time that your or someone you know acted in an heroic manner. 
4) Work with a partner or family helper to write a one-page article about your favorite marsupial. Draw a picture to go with your article. 

More Fifth Grade Resources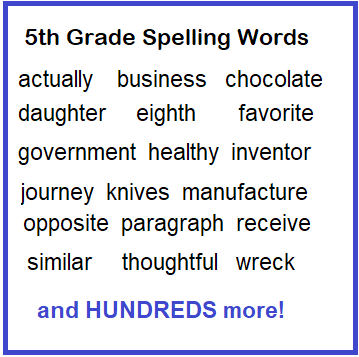 5th grade spelling words - A gigantic list of 300 words typically included in fifth grade spelling programs. Use these for making your own spelling word games, worksheets or extra oral practice. 
5th grade lesson plans - Spelling dictation has never been so simple for teachers and parents! I've written 30 ready-to-go sentences using lots of words on the 5th grade spelling word list. Dictation lessons give students practice with listening, writing and spelling. What could be better?  After you've tried my sentences, write your own sentences using some of the words on this 5th grade vocabulary list.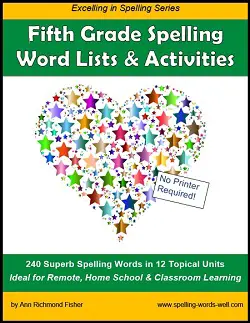 Fifth Grade Spelling Words and Activities will provide excelling spelling practice with 240 grade-level words across 12 topical units. Lots of different activities are provided to make learning enjoyable. Learn more and download free sample pages here.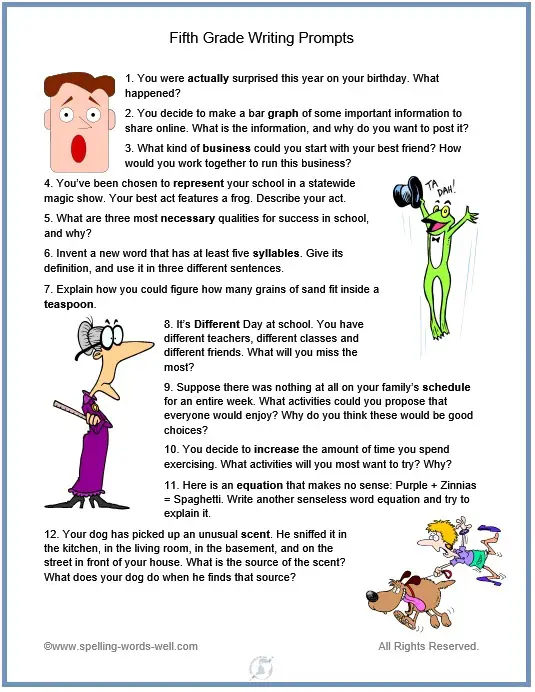 5th Grade Writing Prompts, Set #1 - Tell us about your magic frog act. Tell us how to measure the number of grains of sand in a teaspoon. Tell us how to succeed in school.  Your students will enjoy responding to these fifth grade writing prompts for kids! For an extra challenge, require students to use a specific number of words from the 5th grade vocabulary list in their responses.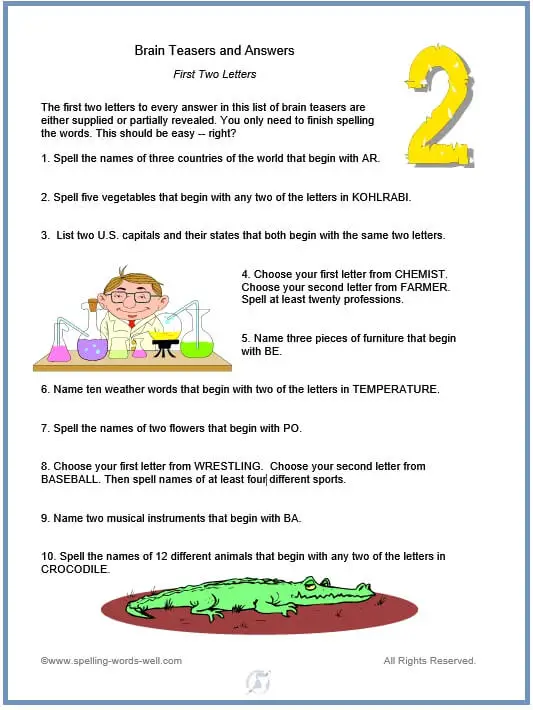 First Two Letters - The first two letters to every answer in this list of brain teasers are either supplied or partially revealed. You only need to finish spelling the words. It's a challenging brain teaser activity for your fifth graders to solve on their own or with a friend. 
Fifth Grade Worksheets
My free worksheets provide more practice with my 5th grade vocabulary list and important grade-level spelling words. Teachers, use these pages to supplement your classroom instruction. Parents, print them out for your kids to get some fun extra practice with important word skills.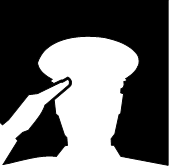 At-TEN-tion!  Complete the spellings of words with the letters TEN on this fun English worksheet. This activity provides great vocabulary and spelling practice for fifth graders and other upper level students.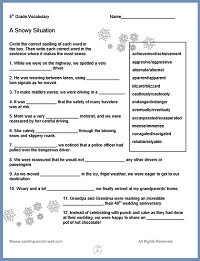 A Snowy Situation - Give students valuable spelling AND vocabulary practice with this engaging worksheet. Fifth graders will test their vocabulary and spelling skills as they read a fun story. They'll need to select the CORRECT word, and also its correct spelling! 

Opposites Unscramble 16 words, then match each on up to an opposite that's also in the list. Fun two-part activity for extra vocab practice

All Vocabulary Lists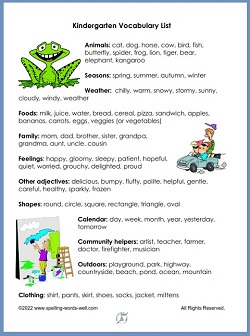 Kindergarten Vocabulary List - 100 engaging, empowering vocabulary words that every kindergartner should be learning. Use our convenient printable page. 
First Grade Vocabulary Words - 100 great vocab words on a variety of topics for 1st grade students to learn to use in conversation, along with suggested activities.
Second Grade Vocabulary List : 100 words for 2nd grade students to learn and enjoy!  Challenge your second graders with more words to use in their speaking vocabularies.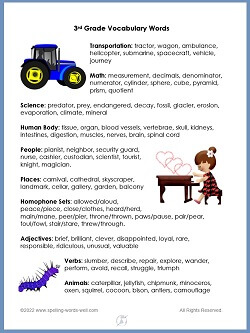 3rd Grade Vocabulary Word List - Another 100 words to boost your child's spoken and written language skills. Print the complete list from the web page for best results!
4th Grade Vocabulary List - Ten sets of ten words each across a variety of subjects and topics to challenge and enrich fourth graders.
5th Grade Vocabulary List - Boost your fifth graders' spoken and written vocabularies with these 100 words, arranged in 10 engaging topics. Try the extension activities for best results!
---
These are lists of spelling words that you may wish to explore with your student. 
---
5th Grade Vocabulary List