3rd Grade  Vocabulary Word List
Use this 3rd grade vocabulary word list of 100 words with students who need additional words to speak and spell. These words are also great to use throughout the third grade school year with all students in everyday conversations.
Using these words regularly helps to enrich students' vocabularies. Some students may also take up the challenge and learn to spell these words and use them in written assignments!
3rd Grade Vocabulary Word List
Here's a peek at the printable page. The full version also appears below. 

Remember, these are words that students in third grade should be comfortable using orally. They may not be able to read and write them at first. But you can help them work on those skills, too!  Does your child already know some of these words? That's great! Have fun using the words frequently in family or classroom discussions.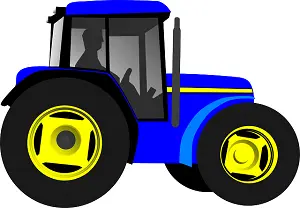 Transportation: tractor, wagon, ambulance, helicopter, submarine, spacecraft, vehicle, journey
Math: measurement, patterns, decimals, denominator, numerator, cylinder, sphere, cube, pyramid, prism

Science: predator, prey, endangered, decay, fossil, glacier, erosion, evaporation, climate, atmosphere
Human Body: tissue, organ, blood vessels, vertebrae, skill, kidneys, intestines, digestion, muscles, nerves, brain, spinal cord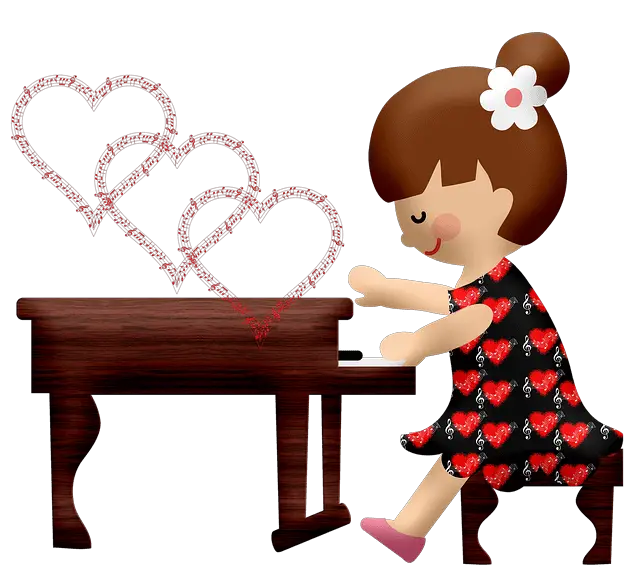 Foods: pianist, neighbor, security guard, nurse, cashier, custodian, scientist, tourist, knight, magician
Places: carnival, cathedral, skyscraper, landmark, cellar, gallery, garden, forest
Homophone Sets: allowed/aloud, peace/piece, close/clothes, heard/herd, main/mane, peer/pier, throne/thrown, paws/pause, pair/pear, foul/fowl, stair/state, threw/through 
Adjectives: brief, brilliant, clever, disappointed, loyal, patient, responsible, ridiculous, unusual, valuable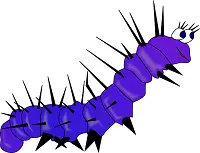 Verbs: slumber, describe, repair, explore, wander, perform, avoid, recall, struggle, triumph 
Animals: caterpillar, jellyfish, chipmunk, rhinoceros, oxen, squirrel, cocoon, tentacle, antlers, camouflage 

Do you want MORE words?
This 3rd grade vocabulary word list is certainly not complete! Feel free to add even more 3rd grade homophones, math and science words, animal words and more! 
Extension Activities
Choose from these extension activities to give your child/students extra practice using words from the 3rd grade vocabulary word list. Add more activities of your own.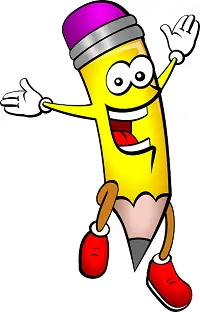 1) Write three sentences to answer one or more of these questions:

Write about a time when you triumphed over a difficulty.
Write about your favorite neighbor. 
Describe a fossil you have seen or would like to see. 
Would you rather ride in a helicopter or a submarine? Why?
2) Work with a partner or family helper to write a story using at least 8 words on the list. Draw at least one picture about the story. 
3) Write one sensible sentence that uses three words from the list that begin with the same letter. 

More Third Grade Resources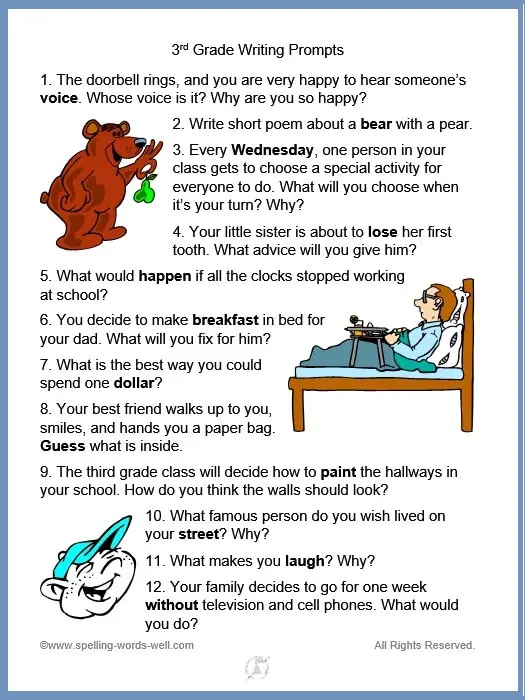 Third Grade Writing Prompts, Set 1 - This list of twelve 3rd grade writing prompts include: What's the best way to spend one dollar? Write a short poem about a bear with a pear.  Why are you happy to hear someone's voice at your front door? Whose voice is it?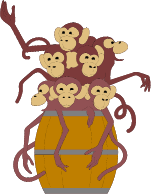 Scrambled Animals - This puzzle is more fun than a barrel of monkeys! Simply unscramble each animal word and write it in the crossword.

Third Grade Worksheets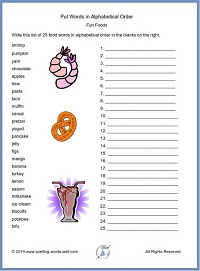 Put Words In Alphabetical Order with this pair of engaging worksheets. The first list features 25 fun foods that must be alphabetized by their first and second letters. The second page requires students to look at the third and fourth letters in a list of five letter words that all begin with W. Challenging!

Mystery In the Attic Spelling Worksheets:  Kids read a humorous story about a mysterious attic as they choose correctly/incorrectly spelled words.

See our entire collection of Phonics Games & Activities. You're sure to find something just right for the skills your kids need to practice!

Find lots more Spelling Worksheets for Grade 3 on our website!
All Vocabulary Lists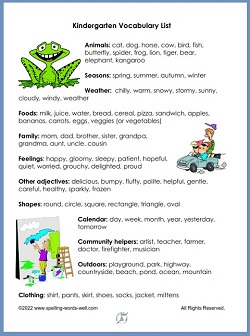 Kindergarten Vocabulary List - 100 engaging, empowering vocabulary words that every kindergartner should be learning. Use our convenient printable page. 
First Grade Vocabulary Words - 100 great vocab words on a variety of topics for 1st grade students to learn to use in conversation, along with suggested activities.
Second Grade Vocabulary List : 100 words for 2nd grade students to learn and enjoy!  Challenge your second graders with more words to use in their speaking vocabularies.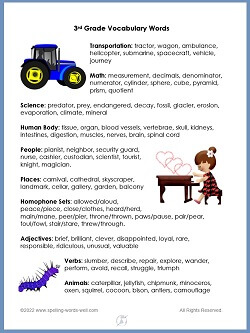 3rd Grade Vocabulary Word List - Another 100 words to boost your child's spoken and written language skills. Print the complete list from the web page for best results!
4th Grade Vocabulary List - Ten sets of ten words each across a variety of subjects and topics to challenge and enrich fourth graders.
5th Grade Vocabulary Words - Boost your fifth graders' spoken and written vocabularies with this BIG list of 200 words, arranged in alphabetical order! I've also selected 100 of these words to put into 10 engaging topics. Try the extension activities for best results!
---
These are lists of spelling words that you may wish to explore with your student. 

Ann Richmond Fisher is a longtime published educational writer, a former classroom teacher and a former homeschool teacher. Ann's spelling bee resources, graded spelling word lists, spelling games, worksheets, and other language arts resources have become respected around the globe since she launched Spelling-Words-Well in 2010.
Ann is also the creator of www.word-game-world.com.
---
3rd Grade Vocabulary Word List